Mesa, Arizona Tree Nursery
Trees are a necessary element to any landscape in Mesa, Arizona and they serve a variety of purposes in our yard and in our world.
Our environment would not be the same without trees. In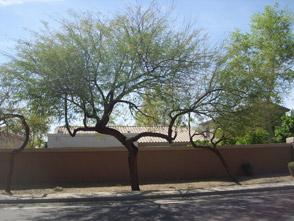 addition to cleaning pollution from the air we breathe and providing nourishment in the form of fruits, nuts and syrups, trees, whether a hardwood or a softwood, also provide the structure for our homes, our floors and other items we use every day. Trees also help us interact with our environment by blocking the wind's force, filtering outdoor noises, shading us from the harsh Mesa, Arizona sun and protecting our privacy from the prying eyes of strangers.
Whitfill Nursery can provide a large selection of trees for a variety of purposes and know that they will flourish in the desert climate because we are a nursery-direct grower operating in the climate we serve.
Selecting a tree for the desert climate is not always an easy decision to make. Whichever tree you choose must withstand extra hot and dry days, windy monsoons, severe drought conditions, and the occasional brisk chill in the outlining areas. There are a variety of trees that will overcome these challenges and still bring you a variety of visual appeal, whether you desire desert scenery, traditional greenery or a tropical landscape in Mesa, Arizona.
Whitfill Nursery offers a variety of trees for every purpose including the following: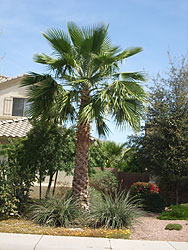 Palm Trees
– adding a taste of the island environment, palm trees come in a number of varieties including Date, Pygmy Date, Queen Palm, Mediterranean Fan, and Mexican Fan among others.
Desert Trees
– desert trees that thrive in the desert's harsh sun and copes with regular drought conditions include Ficus, Mesquite, Palo Verde, Sisso, Acacia, Rosewood, and Ash among many others.
Shade Trees
– blocking the impact of the desert heat, shade trees make the outdoors more bearable with a large canopy such as those produced by Chinese Elm, Oak or a variety of Maple trees.
Citrus Trees
– providing an abundance of color and delicious fruit, citrus trees are among the most popular fruit trees in warmer climates such as Mesa, Arizona. Whitfill Nursery offers Tangelo, Lime, Grapefruit, Lemon and Valencia Orange trees.
Flowering Trees
– add a unique dimension of color and scents to your outdoor environment with flowering trees. For lush and colorful blooms, choose among Palo Verde, Hong Kong Orchid, Jacaranda, Oleander, and Myrtle trees.
There are many dimensions to a landscape and while trees are important it only provides one aspect of your Mesa, Arizona landscape's visual appeal.
Whitfill Nursery offers the following plant varieties to complement your trees and add depth to your outdoor living space:
Shrubs
– a miniature version of trees, shrubs offer the next level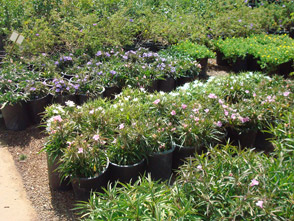 of complexity to any landscape. With numerous woody branches, rich green foliage and colorful blooms, shrubs such as Sage, Lantana, Dwarf Oleander and Bougainvillea are popular in the desert climate.

Tropical Plants
– never leave the comfort of an island setting with tropical plants that provide vibrant color to any environment. Choose from our wide selection of tropical plants including Banana trees, Aloha Lilies, and Succulents among others.
No matter what you desire for your outdoor landscape in Mesa, Arizona, Whitfill Nursery has the best selection of plants, flowers, and shrubs to bring that desire to life. Walk into our onsite greenhouse for a variety of household and exotic plants too.
Whether you need some seedlings to start your own herb or vegetable garden or you need a shade tree to block the afternoon sun, Whitfill Nursery has the perfect trees and plants for your outside environment.
To find out more about Whitfill Nursery, read our About Us page or visit one of our three Valley locations. Also feel welcome to contact us using the form below and find out why Whitfill Nursery is "where we still do the digging".